Workplace Wellness 365 presented by Broward Health Coral Springs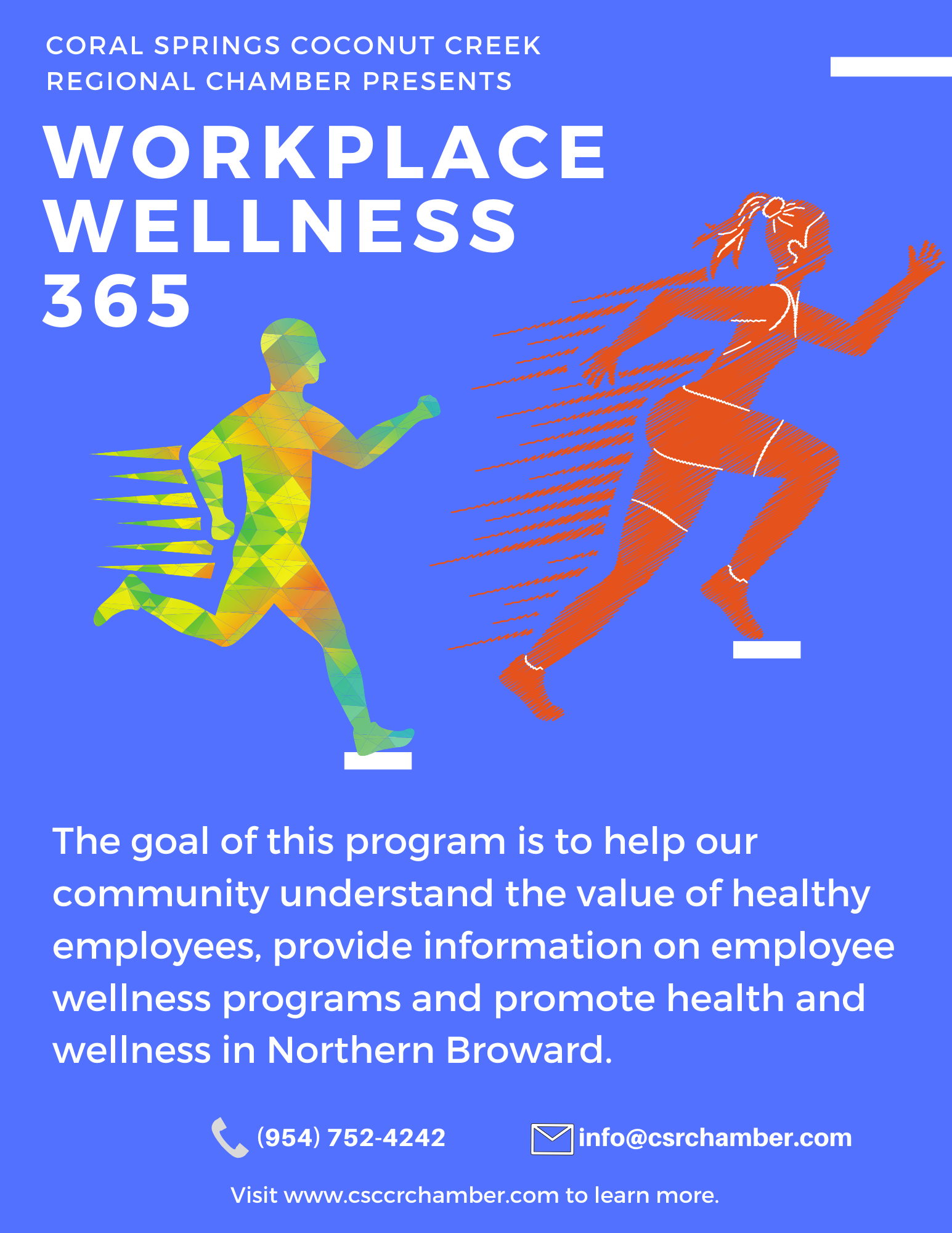 Episode 1- Ir's Embarrassing, BUTT We Need To Talk About It
Episode 5- Wake Up With Workplace Wellness
Workplace Wellness is vital to:
Reduce workplace stressors & burnout

Help employees improve their coping skills and resilience

Help staff improve their physical and mental well-being

Help individuals build their own health awareness to make healthier choices

Help staff choose options that will improve their health

Help staff be more physically active

Give employees access to tools to manage personal, relationship, financial and other challenges

Provide employees with tips to stay healthy
In the workplace, health and safety regulations are paramount to the well-being of the employees and the employer. Many employees need guidance and support from their workplace to remain healthy. Healthy employees in turn come to work and save businesses money! With Workplace Wellness 365, we aim to promote a healthier employee and a more successful and functioning workplace by offering helpful tips and tricks to guide employees to stay healthy and reduce the amount of sick time used. It's a win- win!
How To Tackle Procrastination
Is procrastination getting in the way of your New Year's resolution? Are you putting off a task at home or work?

The first step to fixing the problem is understanding why you're stalling. Is it coming from a place of fear, feeling overwhelmed, or unclear directions? Identify the real issue and take steps to fix it.

Try These Tips:

 Break it down to smaller, more manageable chunks. Then, focus on getting them done one at a time.
 Reduce distractions. This includes limiting checking your cell phone. Postpone checking for an hour until you've made headway on a task, or better yet, when it's completed.
 Give yourself a deadline to get things done. For additional help staying on track, tell someone else about your deadline so that they can help hold you accountable.
 Single-task. Multitasking can overwhelm you and diminish your focus, which can contribute to procrastination. Instead, do one thing at a time, and then move on to the next thing.
 Don't wait until you "feel like it." Taking one small step toward your goal can lead to a chain reaction of steps, and before you know it, you've made progress!
 Take short breaks. Just getting up from your seat and stretching, standing up for a minute, or walking in place can help refresh you.

Source: Broward Health Employee Assistance Program

We are a nonprofit multispecialty academic medical center that integrates clinical and hospital care with research and education.
Who We Are
Cleveland Clinic is one of the largest and most respected hospitals in the country. Our mission is to provide better care of the sick, investigation into their problems, and further education of those who serve. Learn more about our leadership, vision, values and model of healthcare.
Sponsorship Opportunities
Presenting Sponsor (Exclusive
$5,000 [SOLD] Broward Health Coral Springs
Program titled "Workplace Wellness 365 in partnership with Your Company"
Premier logo recognition on Workplace Wellness Tab on Chamber website, on all digital and print promotional materials, social media posts & monthly emails
Opportunity to provide speaker on upcoming Health & Wellness podcast – "Broadcasting from CSRChamber studios" six (6) times a year
Opportunity to add promotional video to Workplace Wellness tab on Chamber website
Opportunity to host Workplace Wellness 365 networking event at your business' location as well as distribute promotional materials
Opportunity to provide "Health Tips for the Workplace" on website tab, social media & newsletter e-mail twelve (12) times per year
Opportunity to have Chamber share company posts to promote your company on social media each month (12 times per year) (Includes: Instagram and Facebook)
Recognition in annual Chamber Community Magazine and Business Directory on featured page as Presenting Sponsor
Wellness Circle Sponsor [SOLD]
$3,000 [SOLD] Cleveland Clinic Florida
Logo recognition on Coral Springs Regional Chamber's website, on select digital and print promotional materials, on monthly email
Opportunity to provide speaker on upcoming Health & Wellness podcast – "Broadcasting from CSRChamber studios" three (3) times a year
Opportunity to provide "Health Tips for the Workplace" on website tab, social media & newsletter e-mail six (6) times per year
Recognition on select Workplace Wellness 365 social media posts
Opportunity to promote your company on Chamber's social media up to six (6) times per year (Includes: Instagram and Facebook)
Recognition in annual Chamber Community Magazine and Business Directory on featured page as Wellness Circle Sponsor
Community Sponsor
$1,500
Logo recognition on Workplace Wellness 365 webpage and select promotional materials & social media posts
Opportunity to provide speaker on upcoming Health & Wellness podcast – "Broadcasting from CSRChamber studios" three (3) times per year
Opportunity to provide "Health Tips for the Workplace" with logo recognition on website tab, social media & newsletter e-mail three (3) times per year
Recognition in annual Chamber Community Magazine and Business Directory on featured page as Community Sponsor
Advocate Sponsor
$750
Logo recognition on Workplace Wellness 365 webpage and select promotional materials & social media posts
Opportunity to provide speaker on upcoming Health & Wellness podcast – "Broadcasting from CSRChamber studios" once a year
Opportunity to provide "Health Tips for the Workplace" with logo recognition on website tab, social media & newsletter e-mail once a year
Recognition in annual Chamber Community Magazine and Business Directory on featured page as Advocate Sponsor