We realize this is a stressful time for all businesses, including the Chamber. We are trying to be very sensitive to the needs of our members while making sure the Chamber is able to get through this pandemic as well. Our normal business practices include sending out renewal invoices and in light of this unprecedented situation we are considering deferring dues for members to give a little more time to prepare for such dues. If you can continue to maintain your membership and pay renewal fees on time, we are grateful and appreciative. The Chamber is leading the way for your business to recover, so you can focus on your business during this unprecedented time. We will be there for you now and in the future.
With that being said, the Coral Springs Coconut Creek Regional Chamber is excited to introduce our newest initiative! Any current member of the Chamber who renews their 2020 membership before September 30, 2020 will receive a COMPLIMENTARY email blast (valued at $99)
---
How Do I Get A Complimentary Email Blast?
Any current member who has a renewal payment due in 2020 may participate. ANY membership renewal that is paid before September 30, 2020 is eligible.
---
What Is The Expiration Date On My Email Blast?
When you renew before September 30, 2020 - you are eligible to schedule your complimentary eblast before December 31, 2020. You will be contacted by the
Chamber Staff
 within 1-3 business days after we receive your renewal payment to begin your complimentary E-blast process.
---
How Can I Use My Email Blast?
Please be advised your eblast MUST be scheduled 2 weeks in advance. No E-blasts will be scheduled the day before you intend for them to be sent out. E-blast dates are first come, first serve. If the date you are looking for is not available, the Chamber Staff will assist you in scheduling the next best date. No E-Blasts will be sent on Monday or Friday.
---
Contact Us
If there's anything the Coral Springs Coconut Creek Regional Chamber can do for your business during this time, please don't hesitate to contact us. Our staff will be working from home throughout this situation but can always be reached via email.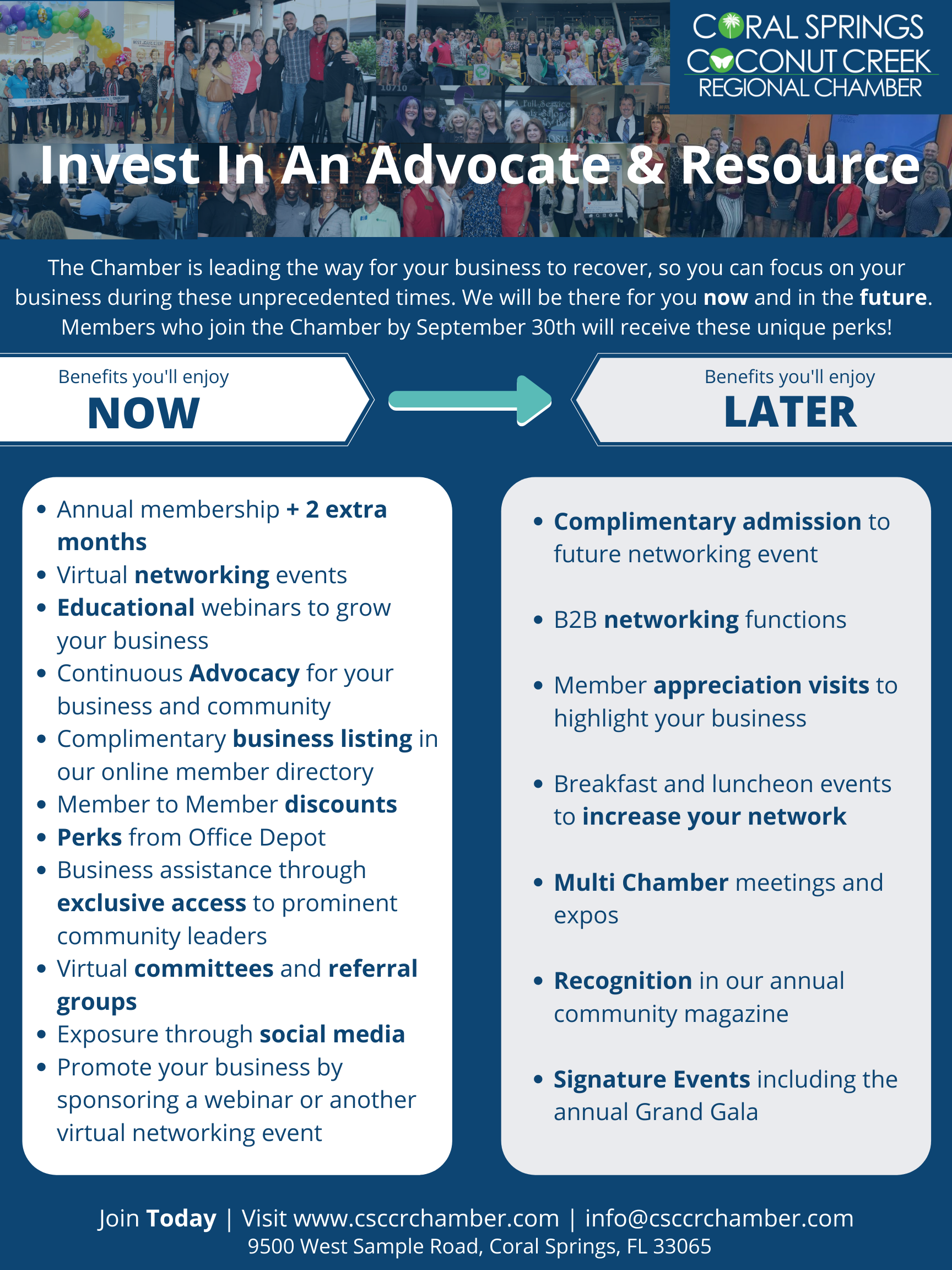 We offer the services of a commissioned and insured Notary Public! If you are a member in need of a notary to sign off on your documents, please contact us to schedule a time to come in for this complimentary service.

Shop Online- Take advantage of preferred pricing and experience an enhanced level of services. Simply register for your new account and get shopping. The price you see is the best pricing available today.
Find your local Business Pro- Business Pros are available at Office Depot retail stores to make your shopping experience better. Text "BizPRO" to 844-446-6358 and we'll make an introduction to your local Business Pro.
Get your Store Purchasing Card- Use your store purchasing card in any Office Depot or Office Max location to see the savings. Text "CoralSpringsCard" to 844-446-6358 to get the Store Purchasing Card sent to your phone. You must present this at checkout to receive the discount.
Office Depot savings highlights:
10% off everything in Office Depot & OfficeMax retail stores
Up to 55% off a 260 item best buy list
2.5¢ black and white and 22¢ color copies
5% off everything - guaranteed!
Great news! The enhanced program is still all about providing preferred pricing to our customers, but now the savings extend to almost every item. It also offers more than just a discount, with additional benefits including preferred customer assistance with Office Depot's team of local Business Pros and access to Office Depot's new suite of technology services designed to help your business thrive.
If you currently use or have used our Office Depot program, nothing changes. You'll still be able to access your great pricing and deals in the same way that you're used to. If you are not signed up for our Office Depot program, click the button below to complete your registration.
We're proud to be a part of Office Depot's Small Business Savings Program, administered by Excelerate America. Tailored to the modern needs of small and mid-sized enterprises, it supports the growth and development of local business communities through fantastic savings in-store and online, preferred customer assistance, access to simplified tech services, and more.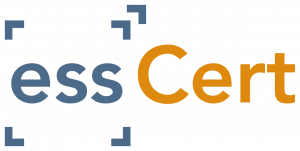 We can stamp your Certificates of Origin electronically!
Simply log in to your company's account and enter Certificate details. We provide plenty of help as you go along, such as saved consignors, consignees and other details.
You can even copy previous certificates and edit as needed. Click submit, and your application is at the Chamber. It's easy!
essCert operates the world's largest electronic Certificate of Origin (eCO) network – spanning 240+ Chambers of Commerce & other CO providers plus 38,000+ Exporters & Freight Forwarders, issuing eCOs out of 14 Export countries & receiving eCOs into 203 Import Countries.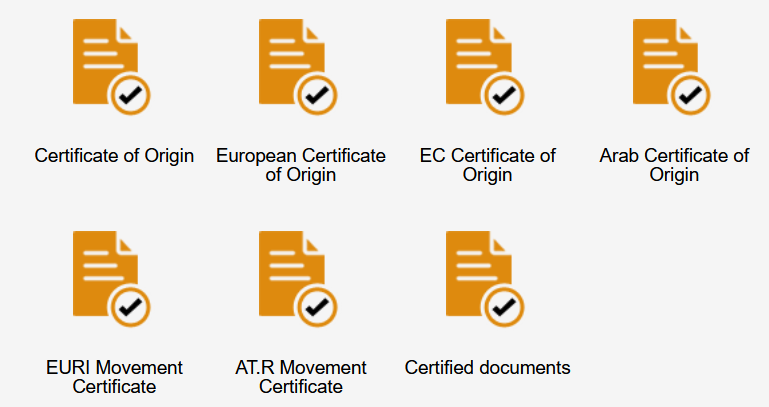 Save on Shipping USE PROMO CODE JNTB5Y TO SAVE!
Select Enroll now and complete the application. If we need more information, a FedEx Advantage specialist will contact you.
                                                         - OR -
Call 

1.800.434.9918

 and a FedEx Advantage specialist will help you complete your application and obtain a FedEx account.
Need a FedEx account? Create an account online. Remember to leave this window open to return and apply for your FedEx Advantage discounts.