City of Coral Springs Emergency Hotline: 954-344-5772
City of Coconut Creek Emergency Helpline: 954-973-6771
Broward County Helpline & Call Center: 311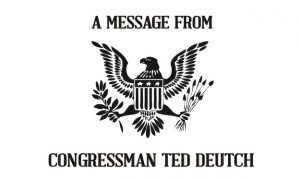 Dear Friend,
As you may know, Florida now has confirmed cases of the coronavirus disease (COVID-19). While there are no confirmed cases in South Florida yet, I want to share some important information on how to keep yourself and your loved ones safe.
The Centers for Disease Control recommends that you take everyday preventive actions to help stop the spread of germs, including:
- Wash your hands often with soap and water for at least 20 seconds. If soap and water are not available, use an alcohol-based hand sanitizer with at least 60% alcohol.
- Stay home when you are sick and avoid close contact with people who are sick.
- Always cover your cough or sneeze, and avoid touching your eyes, nose, and mouth with unwashed hands.
- Clean and disinfect frequently touched objects and surfaces using a regular household cleaning spray or wipe.
If you are concerned that you may have contracted the coronavirus, reach out to your county health department.
Palm Beach County: 561-840-4500
Broward County: 954-467-4700
Miami-Dade County: 305-324-2400
Visit my website for more resources and information. You can access a CDC fact sheet here.
If you have any questions, please call my offices in Boca Raton (561-470-5440) or Washington, D.C. (202-225-3001).
Kind regards,
Ted Deutch
As your communities prepare for Hurricane Dorian, the U.S. Chamber of Commerce Foundation has resources to help your chamber and your members to prepare and recover.
First, I encourage you to read this blog post, How to Prepare Your Business for Hurricane Dorian, which outlines the practical steps your chamber and members can take this week ahead of Dorian making landfall.
Please utilize these services and share these with impacted businesses. Encourage any of them to call our Disaster Help Desk at 1-888-692-4943. Unfortunately we can only provide the direct support in English, but want to provide regardless.
Disaster Help Desk for Business—Businesses and chambers can call 1-888-My-Biz-Help (888-692-4943) for direct support from disaster recovery experts.
Resilience in a Box—Resource guide based on best practices designed to help educate business leaders on disaster preparedness and business resilience. This tool is available in Spanish as well and includes a Top 20 Tips that businesses can do now in advance of the storm.
Disaster Recovery Quick Guides—made possible by Shell, has tailored tips in English for small businesses and chambers looking to prepare and recover.
In addition to sharing the number for the Disaster Help Desk for Business, we also encourage you to connect directly with Ines Pearce who leads the support for the Help Desk. We respectfully request (as possible) that as your recovery unfolds – please keep us in the loop as to the number of businesses impacted and any needs so we can act quickly in determining how to support your efforts, and to assist you with economic recovery, if needed. Any additional information is much appreciated.
The Chamber Foundation is here to support your community. If you need additional support or have questions, please let us know or reach out to the Disaster Help Desk directly at 1-888-MY-BIZ-HELP (888-692-4943).
SBA Resources:
https://www.sba.gov/managing-business/running-business/emergency-preparedness/disaster-assistance
Cyber Security:
http://www.secureflorida.org/businessafe 
Insurance Info:
http://www.insuringflorida.org/category/business/
Tips for Planning:
https://www.ready.gov/business
Create your plan:
http://www.floridadisaster.org/getaplan/ 
Info for Fire:
The City of Coral Springs Hurricane Call Center will be available to assist residents with vital information before and after a storm. Residents can reach the call center at 954-344-1001.
Staff at the Call Center are available to answer questions about City-related issues and not concerns such as canals, cable television or electricity.
Two closest primary shelters for Coral Springs
Monarch High School,
5050 Wiles Road, Coconut Creek
Coral Glades High School,
2700 Sportsplex Drive, Coral Springs
The American Red Cross is responsible for opening this and other shelters as need demands. Shelters and other programs may open in phases and residents will need to monitor local media for information.
It is important to note that Coral Springs is not considered an evacuation area.
Evacuation and Shelter Information in Broward County:

Pet Shelter: Pet-friendly Hurricane Shelter
Millennium Middle School, 5803 N.W. 94th Avenue, Tamarac
Those wanting to use the shelter during an emergency must pre-register because of space limitations.
Humane Society of Broward County's Pet Hurricane Hotline: 954-266-6871
Pre-registration must be done in person at the Humane Society of Broward, 2070 Griffin Road, Fort Lauderdale, FL 33312 or call for more information at 954-989-3977. Click here to visit their site for more hurricane information for your pets.
Owners are required to show proof that they reside in a County evacuation zone and that their pets have up-to-date vaccinations, including a rabies shot.
Special Needs Shelter/Emergency Transportation Program
Pre-Register with Broward County's Vulnerable Population Registry. This registry allows people who are disabled, frail or have health issues to register in advance with their city so that emergency workers may plan a better response to vulnerable residents in a recovery effort following a hurricane or other emergency.
Pre-register for evacuation transportation, if you think you may need it. As with shelter registration, you are not obligated to take advantage of the service if your plans change. To pre-register, call Broward County Emergency Management at 954-831-3902 (TTY 954-831-3940) or complete the registration form online.