Diversity, Equity and Inclusion
Diversity. Inclusion. They're more than just words for us. They're the hard-and-fast principles guiding how we build our teams, cultivate leaders and create a Chamber that's the right fit for every person inside of it. We have a global, multicultural following—we want the Coral Springs Coconut Creek Regional Chamber to reflect that.
Ensure that our Chamber, and consequently our community and members, are represented across the State, County, and Local level by connecting with other opportunities such as the Urban League of Broward County, The Broward County Black Chamber of Commerce, County Boards & Initiatives, etc. If we have representation plugged into some of the organizations already addressing these matters, we can remain responsive and ahead of the curve in terms of bring both information and opportunities to the DEI Task Force, our Board of Directors, Our Chamber Membership, and our Community at Large.
Talk openly about race and racism and its impact on our behaviors and how we can be the agents of change in our community and foster educational opportunities to enhance future quality of life for minorities.
Foster economic prosperity for minority business owners.
Chamber partnering with the City, create a directory of minority owned businesses to increase visibility for businesses. See City database as well as Fiserv's resources.
Statement on website to confirm opposition against systemic racism and support of principals of Black Lives Matter.
Once minority owned businesses are identified, as Shane spoke about, formally invite them to join the Chamber. Perhaps with incentives like access to Chamber events prior to joining or a complimentary or discounted annual membership to see what the Chamber can offer.
Assign an ambassador to be new member liaison once on board.
Establish a Diversity and Inclusion Summit Series in 2021
Perhaps also have a breakfast with speakers and a forum for affected people to share their experiences/story and recruit mentors.
Review our own diversity on the board and our membership in general to ensure that all groups of our community are being fairly represented in our Chamber
Share content from other organizations that are already having events, summits, panel discussions, and measurable actions that the Chamber can implement or simply partner with as to not reinvent the wheel.  Organizations include, the Urban League of Broward County, Hispanic Unity of Florida, Florida Chamber of Commerce, United Way, etc…
Partner with BSO, Coral Springs and Coconut Creek Police department responding to these issues
Partner with our members to create some targeted events and initiatives addressing increasing opportunities, such as FiServ, Pathways 2 Work, Career Source Broward, Jim Moran Institute, etc. We could invest in our community by promoting the work that they do, and using our considerable influence to reach out to our entire community with this information. Additionally, if the committee made it known they were willing to partner and promote such initiatives, I think we would find that there are many organizations within our ranks who want to lend a hand and contribute to generating ideas and programming that would help.
Partner with a Small Business Incubator Program in conjunction with a local university. Provide mentors to assist.
Identify the minority business in Coral Springs/Coconut Creek that are eligible to receive a Fiserv Grant
Our Chamber positions diversity, equity and inclusion as critical for business maturation and growth. We endorse the development and implementation of diversity and inclusion strategies that advance productivity, innovation, and economic growth.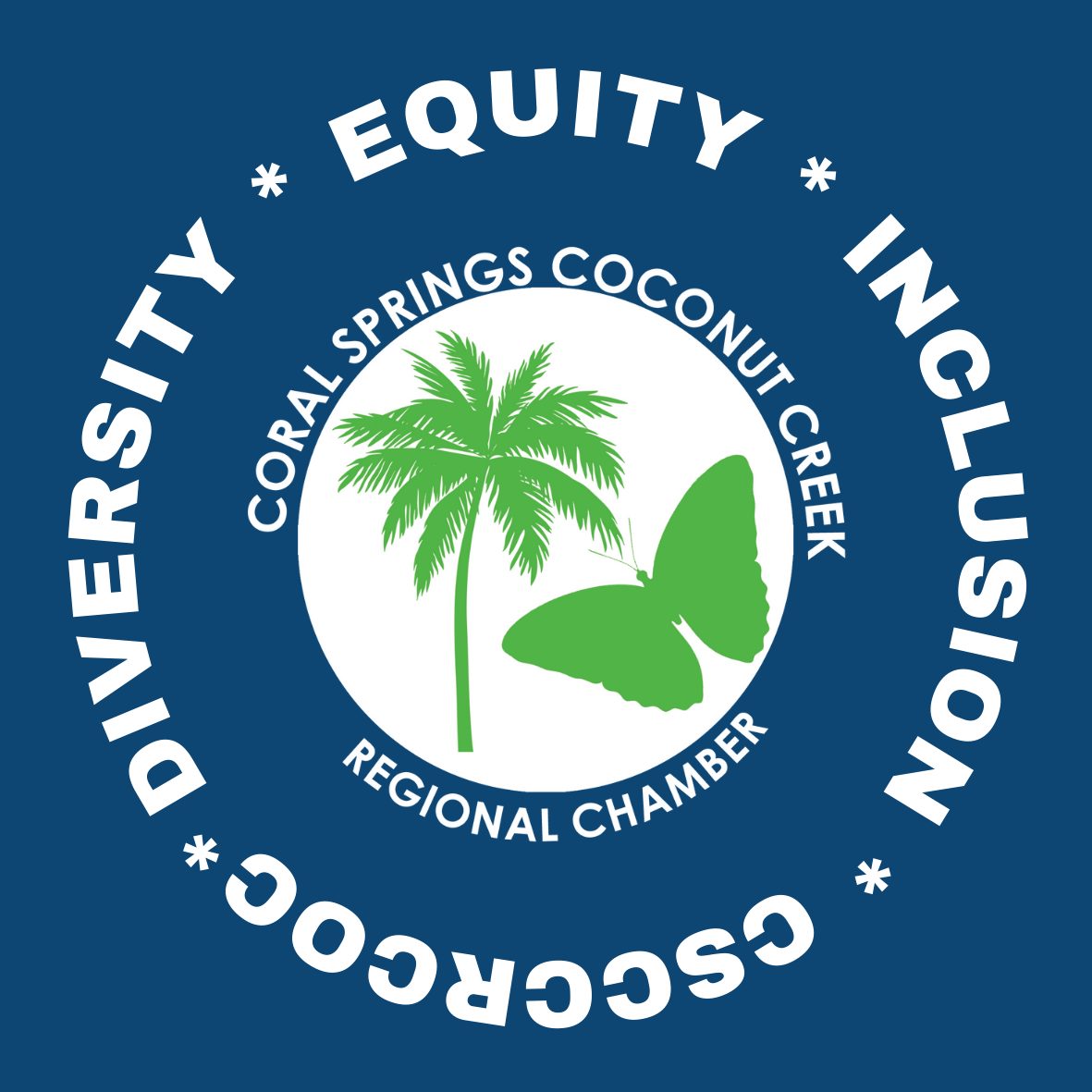 Diversity Committee Vision
We envision a steering committee that reflects the demographics of our city and a growing membership of businesses representing the diversity of our business owners and entrepreneurs.
Committee Focus Areas
Workplace: Adopting policies and practices that include people who have historically been absent from your organization.
Workforce: Concerted effort to recruit qualified employees from traditionally underrepresented groups.
Marketplace: More deeply involve minority-owned enterprises and consumers in the regional economy and recognize the enormous purchasing power of minority groups.
Sponsorship Opportunities
Presenting Sponsor
10,000
Presenting Sponsor \ $10,000 (one sponsor)

Company Logo prominent on event invitation & program as Presenting Sponsor

Recognition as Presenting Sponsor in event promotions

Logo inclusion as Presenting Sponsor on all event printed materials

Logo inclusion on PowerPoint as Presenting Sponsor

Opportunity for company representative to participate in program

Logo prominent on event signage as Presenting Sponsor

Logo prominent on event page of the Chamber website

Logo prominent on e-blast communication as Presenting Sponsor

Logo Recognition as Presenting Sponsor on Social Media Sites

Reserved priority seating at the keynote events with recognition signage on table

30 attendee passes to event
Gold Level Sponsor
5,000
Recognition in invitation as Gold Sponsor

Company Logo on event program as Gold Sponsor

Recognition as Gold Sponsor on keynote program

Logo inclusion on keynote PowerPoint

Logo on event signage as Gold Sponsor

Logo on event page of the Chamber website as Gold Sponsor

Logo on e-blast communication as Gold Sponsor

Logo recognition as Gold Sponsor on Social Media Sites

Reserved priority seating at keynote events with recognition signage on table

20 attendee passes to event
Silver Level Sponsor
2,500
Company name recognition on PowerPoint as Silver Sponsor during keynote events

Company Logo on event program as Silver Sponsor

Company name on event signage as Silver Sponsor

Company name on event page of Chamber website as Silver Sponsor

Company name on e-blast communication as Silver Sponsor

Reserved priority seating at the breakfast/luncheon with recognition signage on table

10 attendee passes to event

One (1) Email related to diversity efforts by your company to be sent to Chamber's contact list of 5,500 contacts
Bronze
750
Company name on event page of Chamber website as Bronze Sponsor

Company name listed on event program as Bronze Sponsor

Reserved priority seating with recognition signage on table

5 attendee passes to event