Trustee & Platinum Circle Events
Trustee members of the Coral Springs Coconut Creek Regional Chamber of Commerce are leaders in our community who recognize that their business success and continued growth are tied to the community they serve. The purpose of the Coral Springs Coconut Creek Regional Chamber of Commerce Trustee program is to engage senior executive business leaders in active participation with the Chamber by forming alliances with peers so they can lead our community in social and political interactions as well as be informed regarding issues that affect Coral Springs.
Trustee members lend their concern and expertise to address issues concerning the community, politics, and business, to help ensure a solid future for local enterprises and our citizens. Together, we are insuring the continued growth and vitality of each business and that of the Chamber for many years to come.
Upcoming Luncheon Details:
Guest Speaker: Florida State Representative Dan Daley, District 97
Florida State Representative Christine Hunschofsky, District 96
Topic: 2022 Pre-Session Legislative Update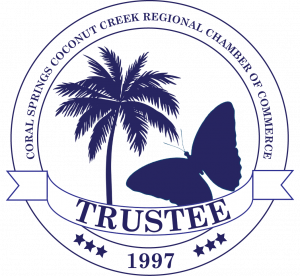 Upcoming Event Date and Time
Networking 11:30am - 12:00pm
Program and Presentation -  12:00pm - 1:15pm
Access to exclusive bi-monthly Trustee Luncheons
Rotating Banner ad with company logo shown at every Wake Up Breakfast event regardless of Trustee attendance
Opportunity to be included in Trustee News at each Trustee luncheon
Opportunity to network with city leaders, elected officials, and decision makers
A complimentary Gold Package Upgrade (valued at $150) featuring:

an enhanced listing in the Chamber's online member directory which includes priority placement in online membership listing
your logo displayed with an extended description (1600 characters)
the ability to display videos and photos
Google Maps link to your businesses

Trustee logos are displayed in special Trustee section in the Annual Coral Springs Coconut Creek Regional Chamber Community Magazine
Trustee logos are displayed on every email sent by the Chamber through their email marketing system that reaches over 5,500 community contacts and businesses
Company name listed in Chamber Wake Up Breakfast pamphlet distributed to all attendees at each Wake Up breakfast
Annual opportunity to participate in Trustee Spotlight in "Hot off the Press", the Chamber's monthly newsletter
Additional complimentary business category listing in the member directory on the Chamber's website (Valued at $35)
Digital use of the Coral Springs Coconut Creek Regional Chamber Trustee Seal
Company name displayed on Wall of Fame located in prominent position at the Chamber office
Opportunity to speak at least once per year for Trustee Minute at the Mic at a monthly Wake Up Breakfast
If you are interested in becoming part of the Coral Springs Coconut Creek Regional Chamber Trustee Program, call the Coral Springs Coconut Creek Regional Chamber at 954-752-4242 or Email Cindy Brief.